An urban renewal model that cares for social vulnerable groups
Introduction
"Urban village" is a unique form of informal settlement, distributes extensively in Southern China. Urban villages were originally rural villages, now encroached by urban development due to rapid urbanization. The house owners – rural farmers who have lost farmland now rent out their properties to low-income urban new migrants. In Shenzhen, the innovation capital of China, there are 241 urban villages, accounting for 49% of the city's total housing.
These urban villages are crucial to the city: they spontaneously serve as affordable housing to migrant workers and young entrepreneurs, insuring stable workforces and continuous innovations to the city. However, as a result of early disorderly construction, the living conditions in urban villages are crowded and untidy, reforms are needed.
The local government has adopted several methods, including demolish-reconstruction and integrated renovation. In the renewal process, there are four key interest groups: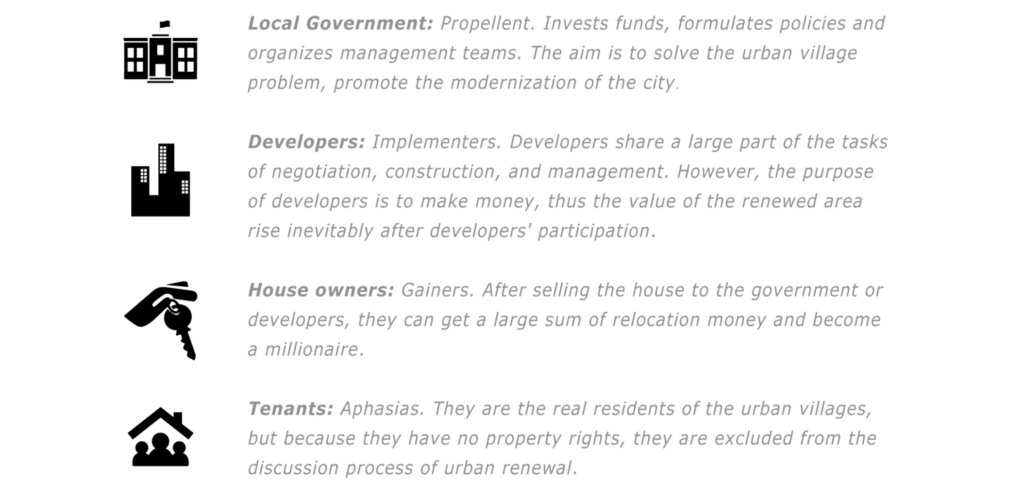 After the urban renewal, tenants move out of this area, even the city. In the long run, not only may social conflicts intensify, but socio-economic functions of the city may also be impaired because Shenzhen is a young city that depends on migrant populations.
The purpose of the project is to explore how to integrate the requirements of different parties into a dynamic renewal model and protect the living right of the migrants.
Site Analysis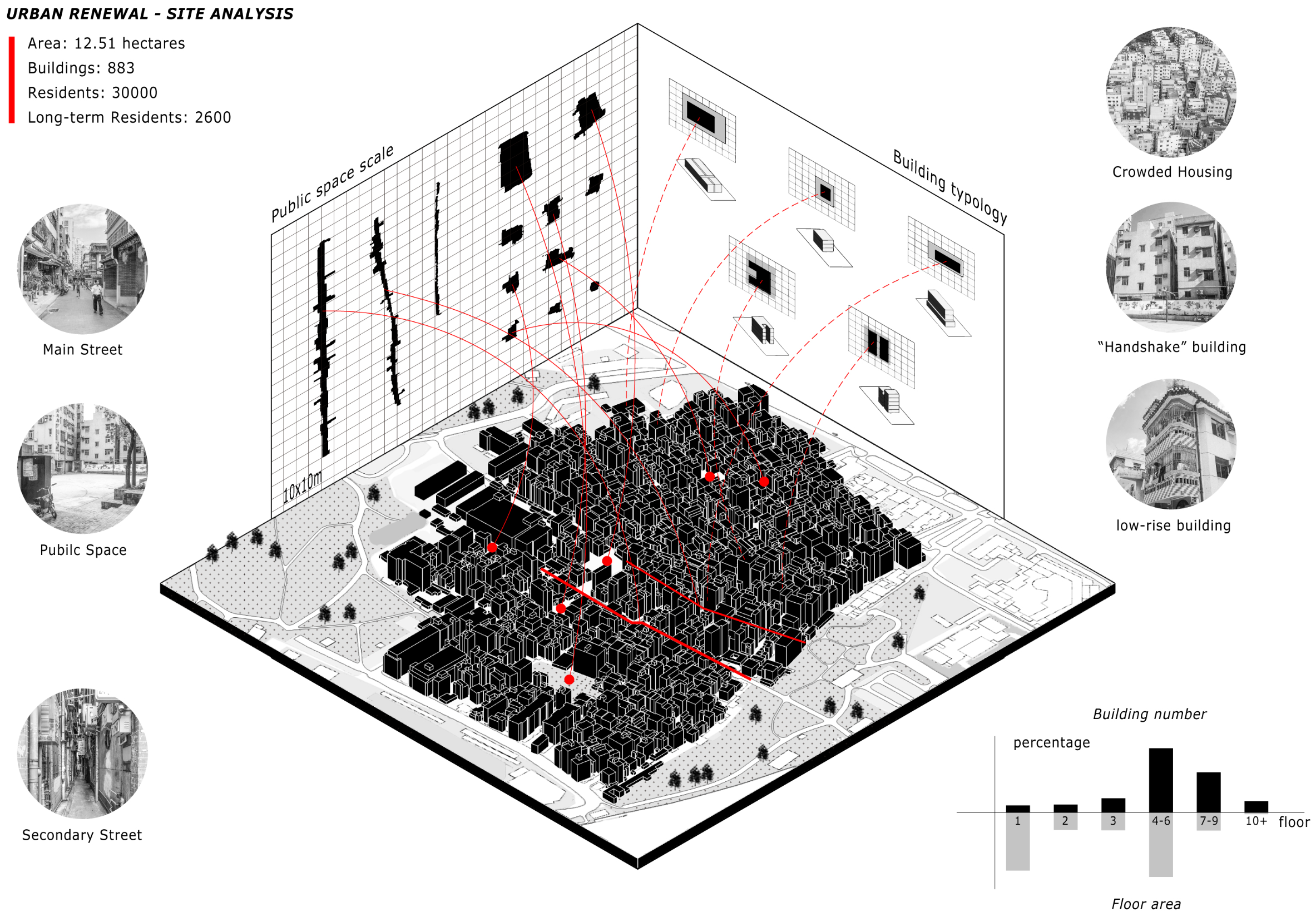 Comparing the average house rent of Nantou Village with the surrounding residential quarters, it can be clearly seen that the monthly rents in Nantou are much lower.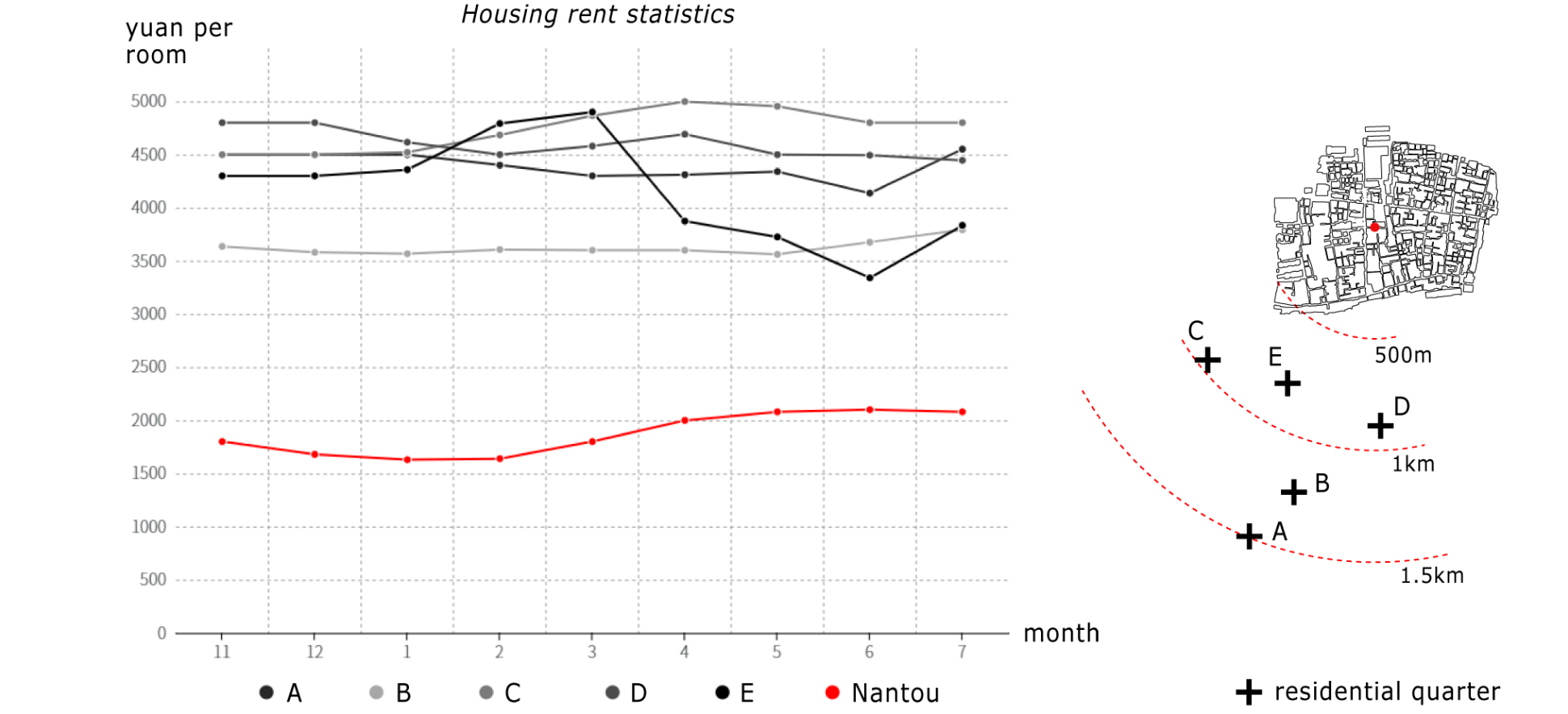 According to statistical surveys, tenants of different ages have significant differences in census register, income, and family structure. Therefore, the tenants are divided into four target groups to improve the pertinence of rulemaking and renewal solutions.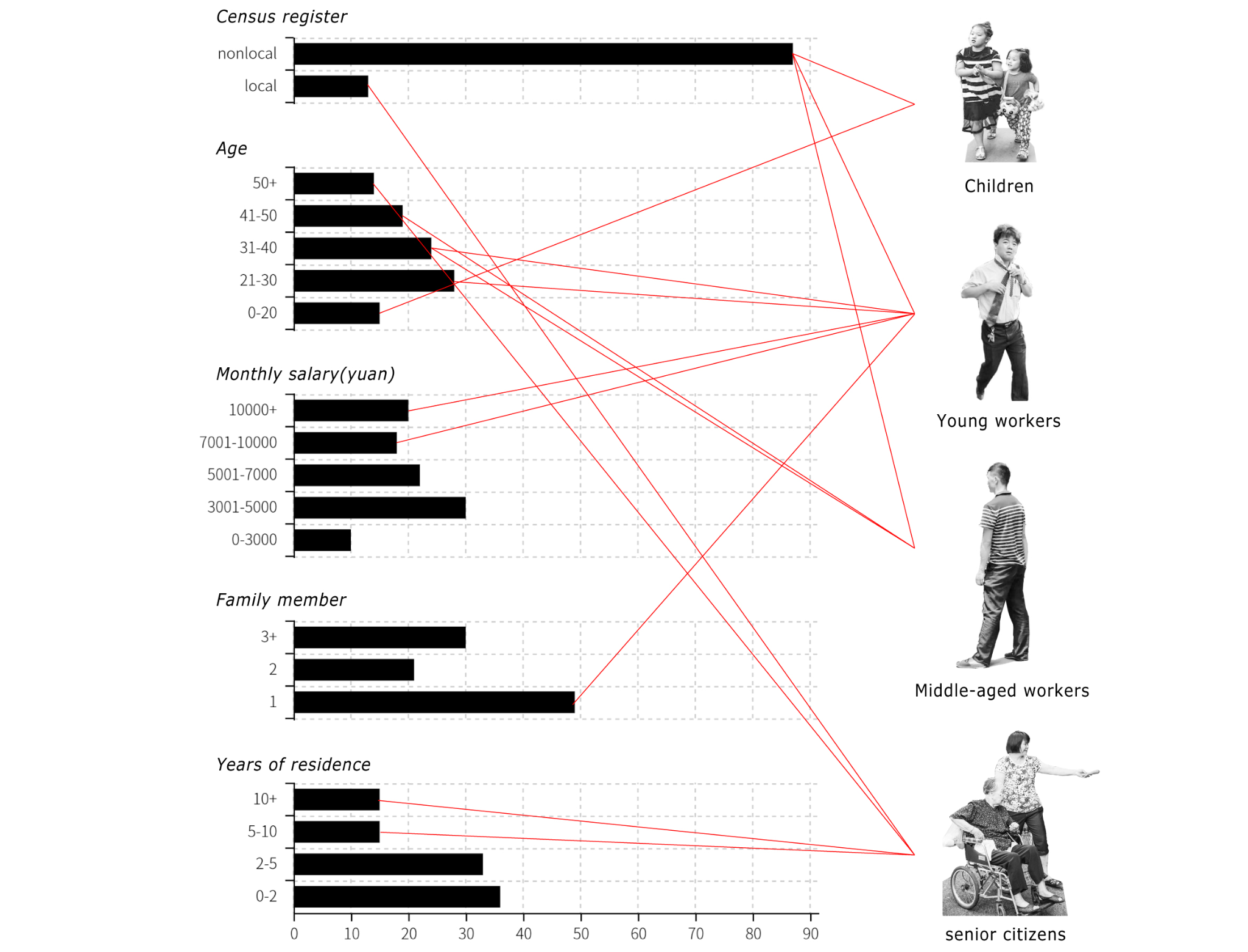 Urban Renewal Strategies
1. Set an Organic Renewal Goal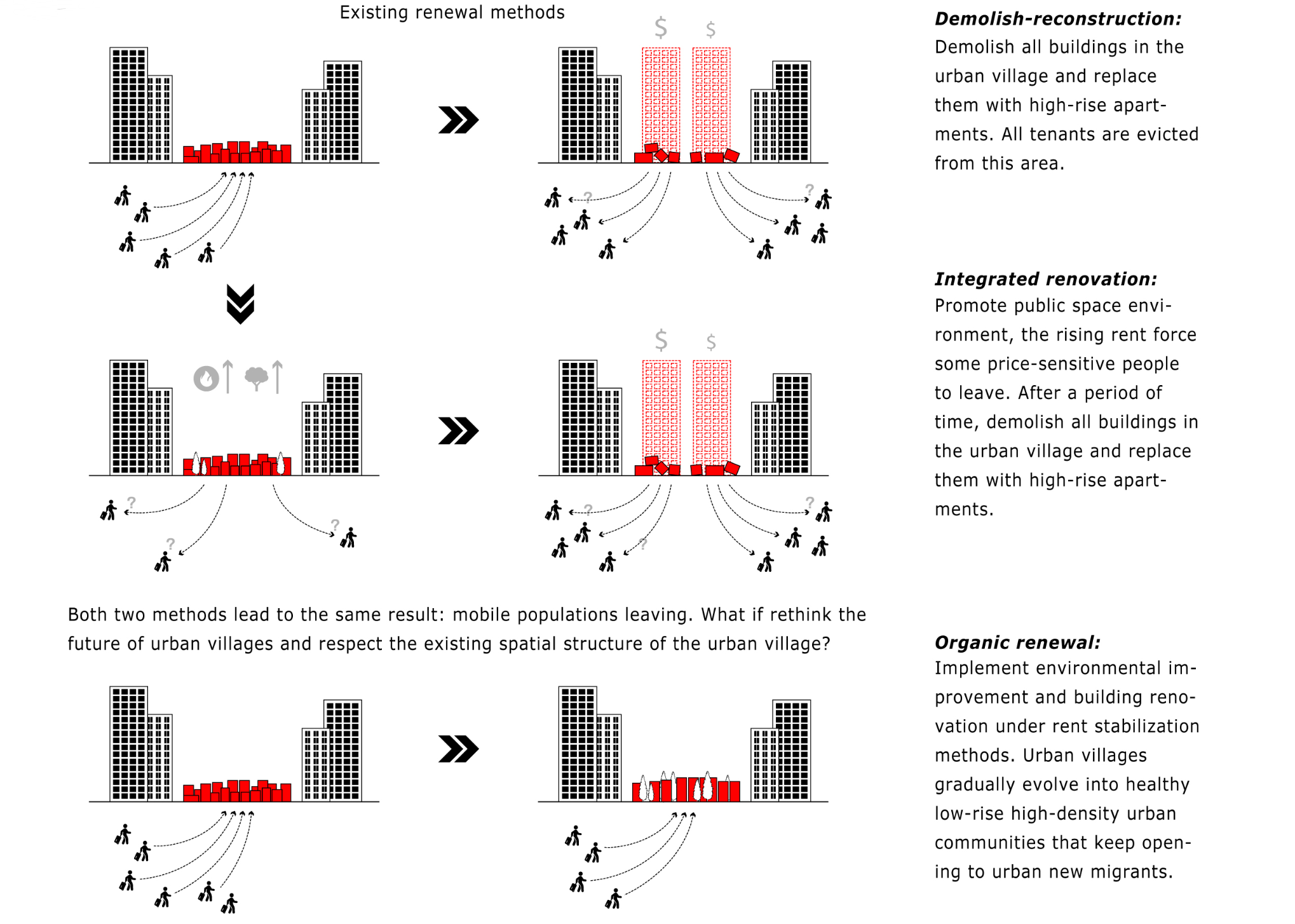 2. Construct a multi-agent participation process

How to let mobile populations engage in the renewal process? A possible approach is through identity information, which indicates their rental affordability and unit preferences. Several building renovation prototypes could be developed according to the information. The renewal plans to design the quantity and distribution of each renovation prototype on the basis of statistical information.
3. Design an adaptive renewal process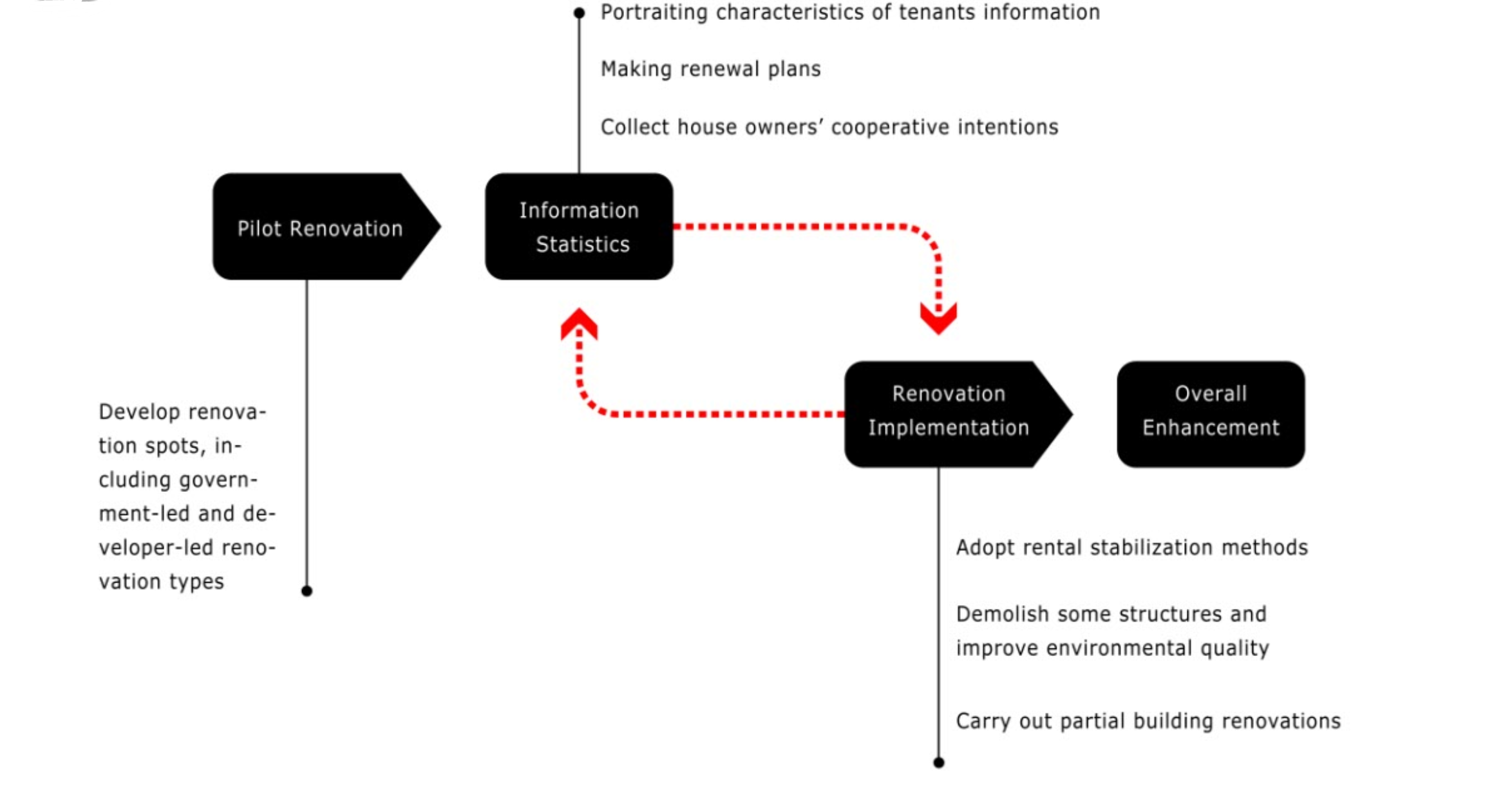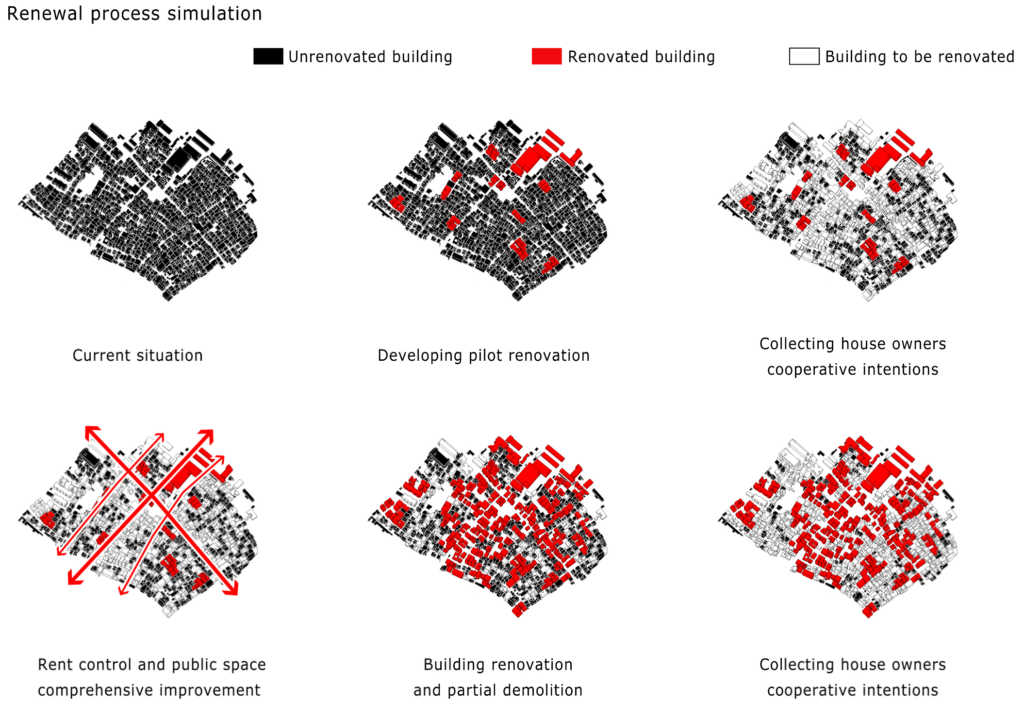 4. Introduce a rent stabilization system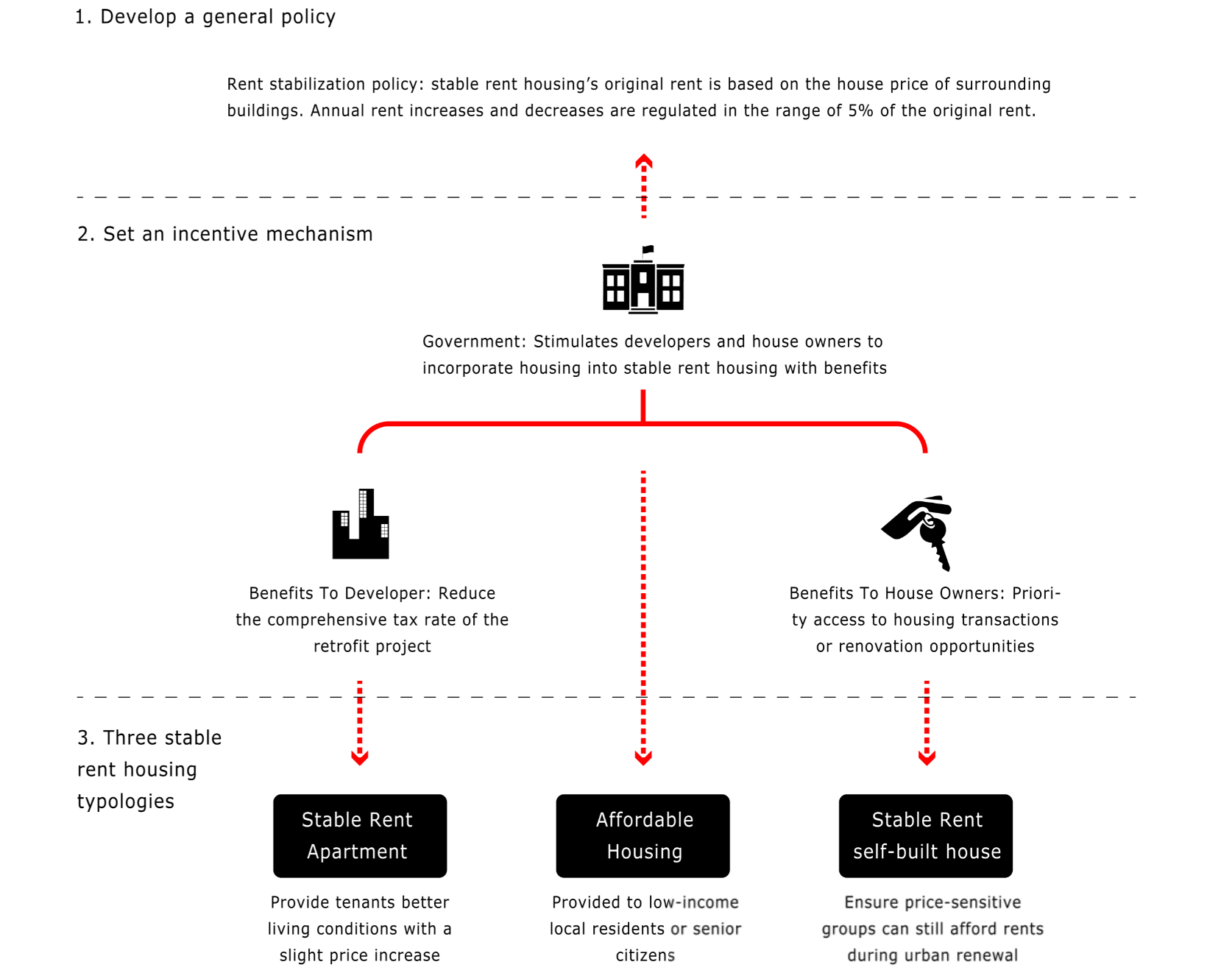 Renewal Plans targeting at different groups
1. Young workers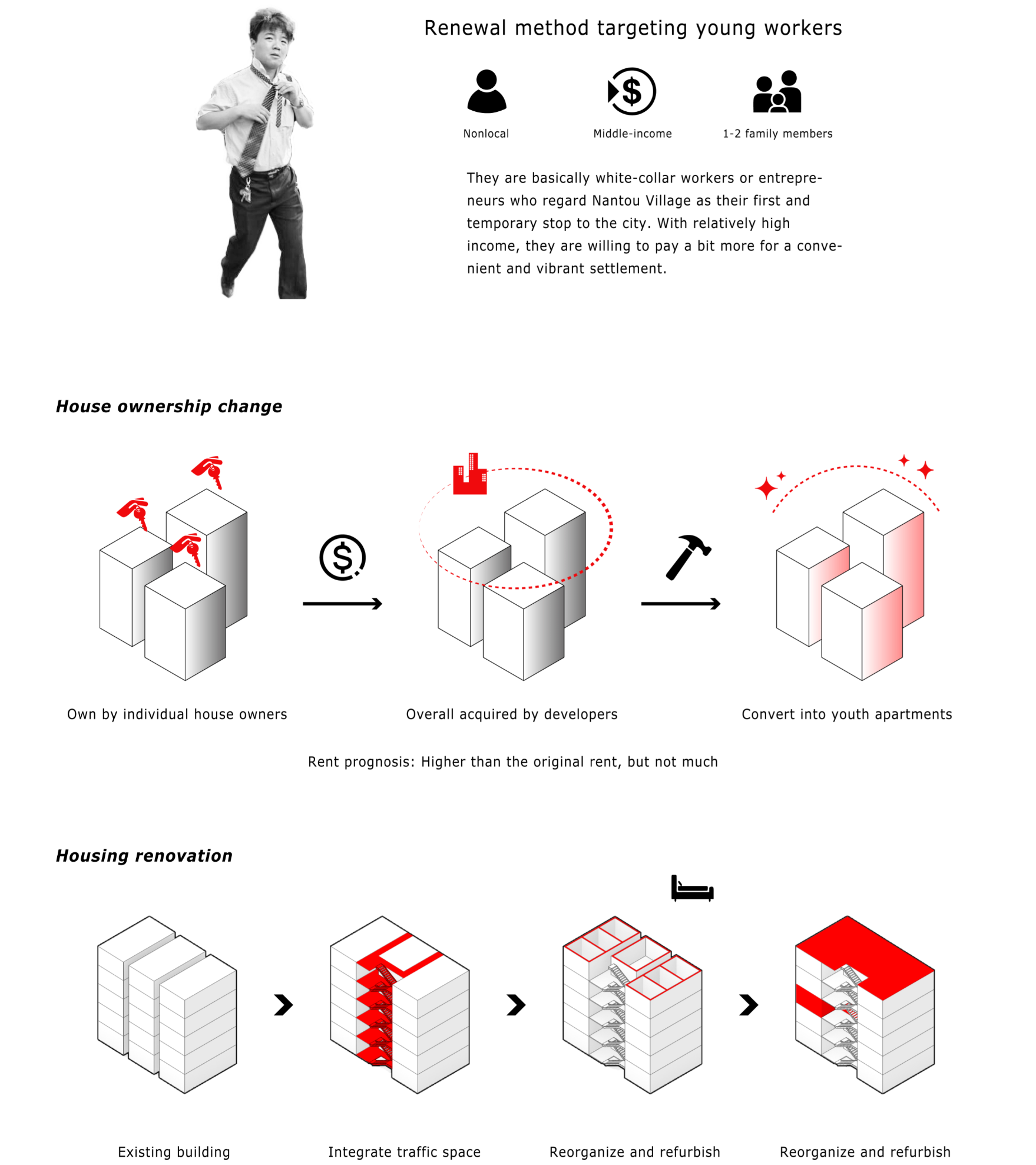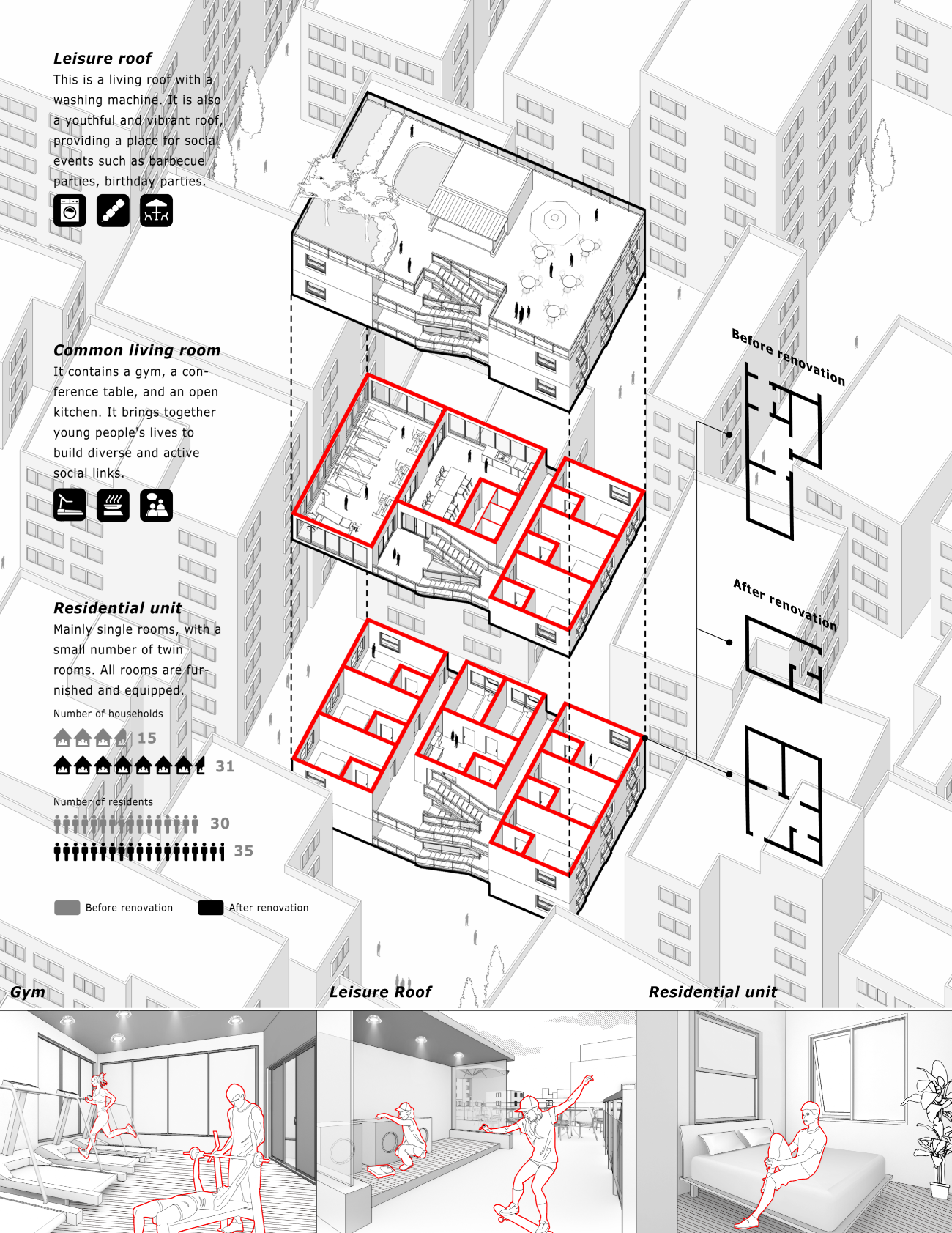 2. Middle age tenant families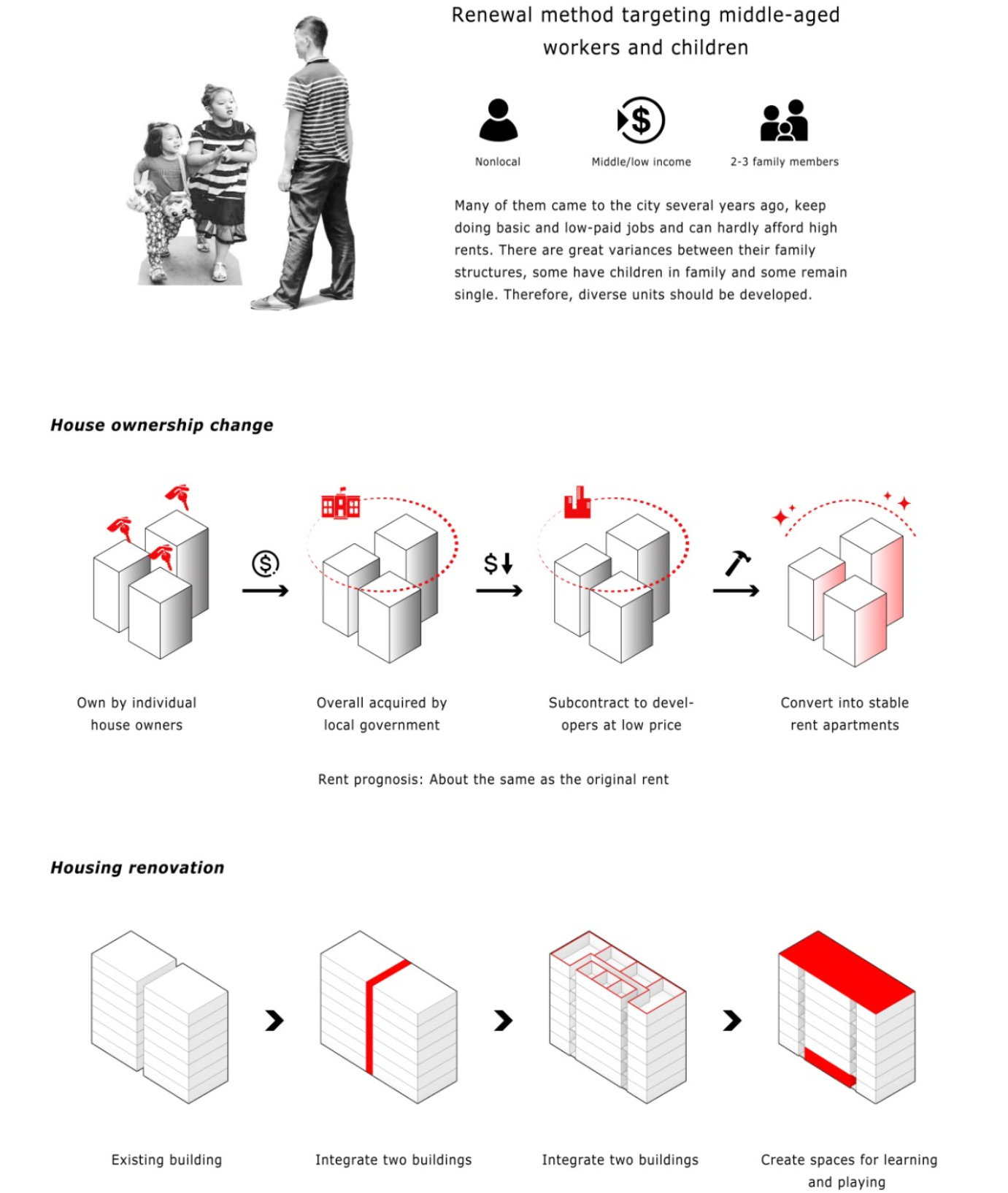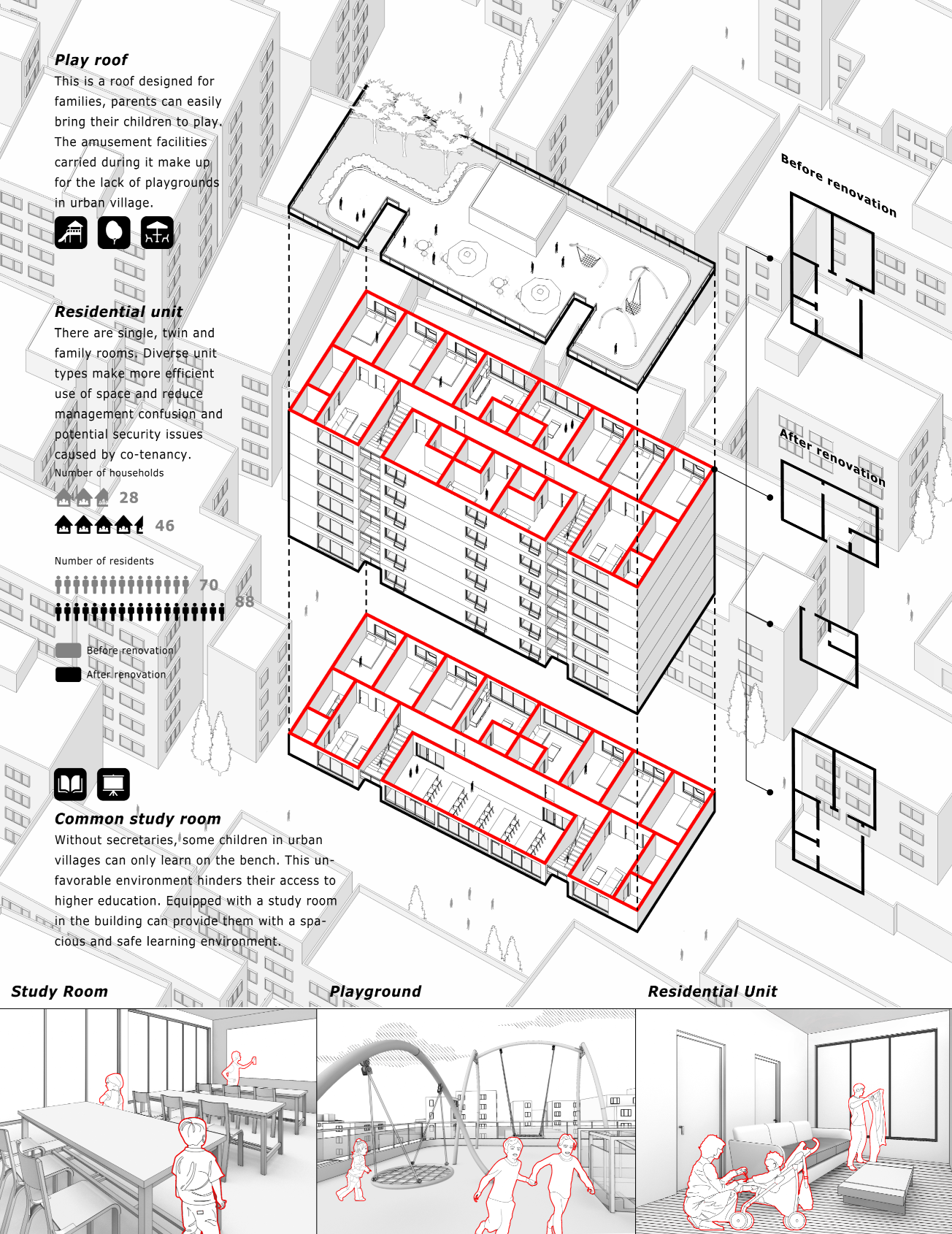 3. Senior citizens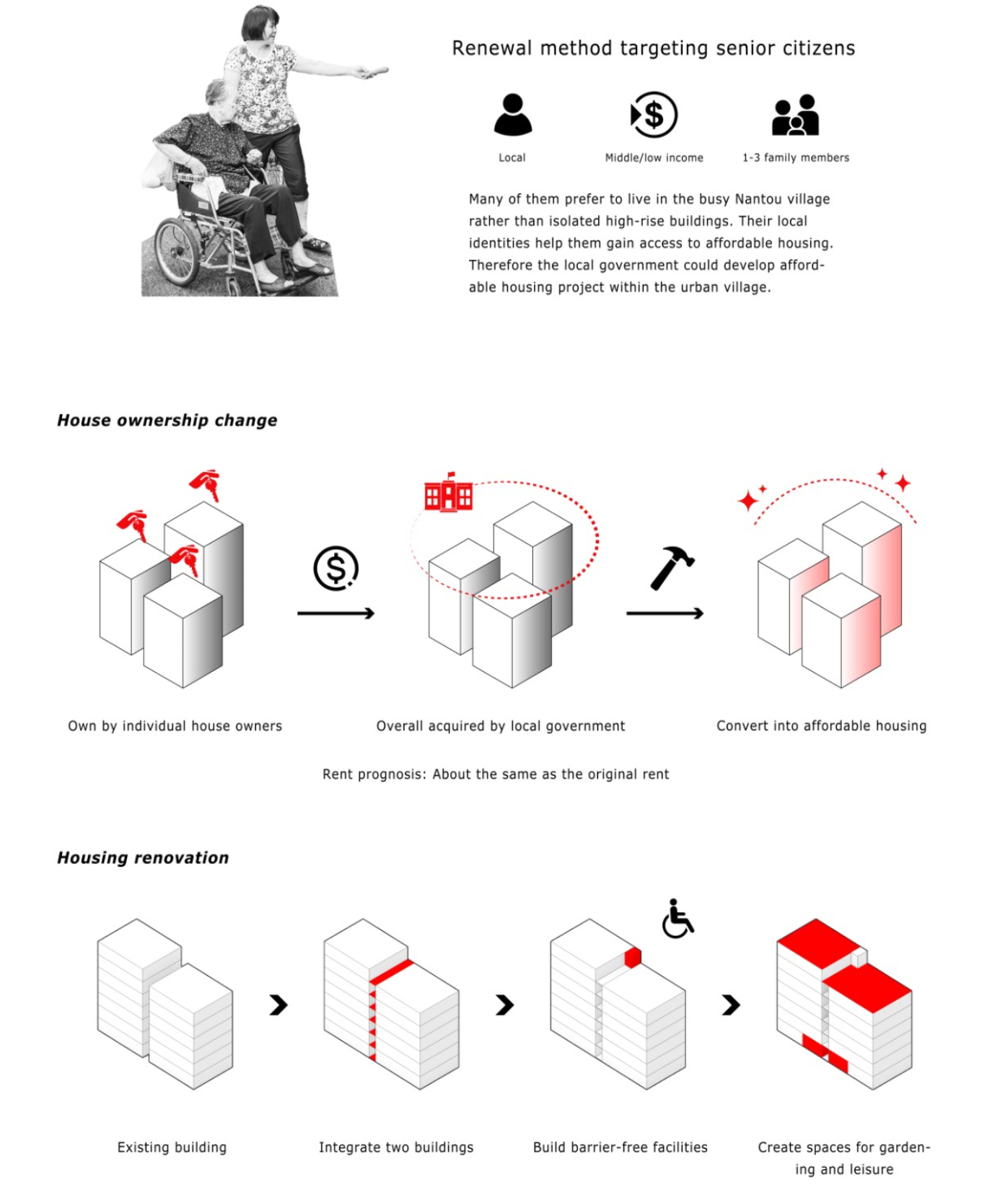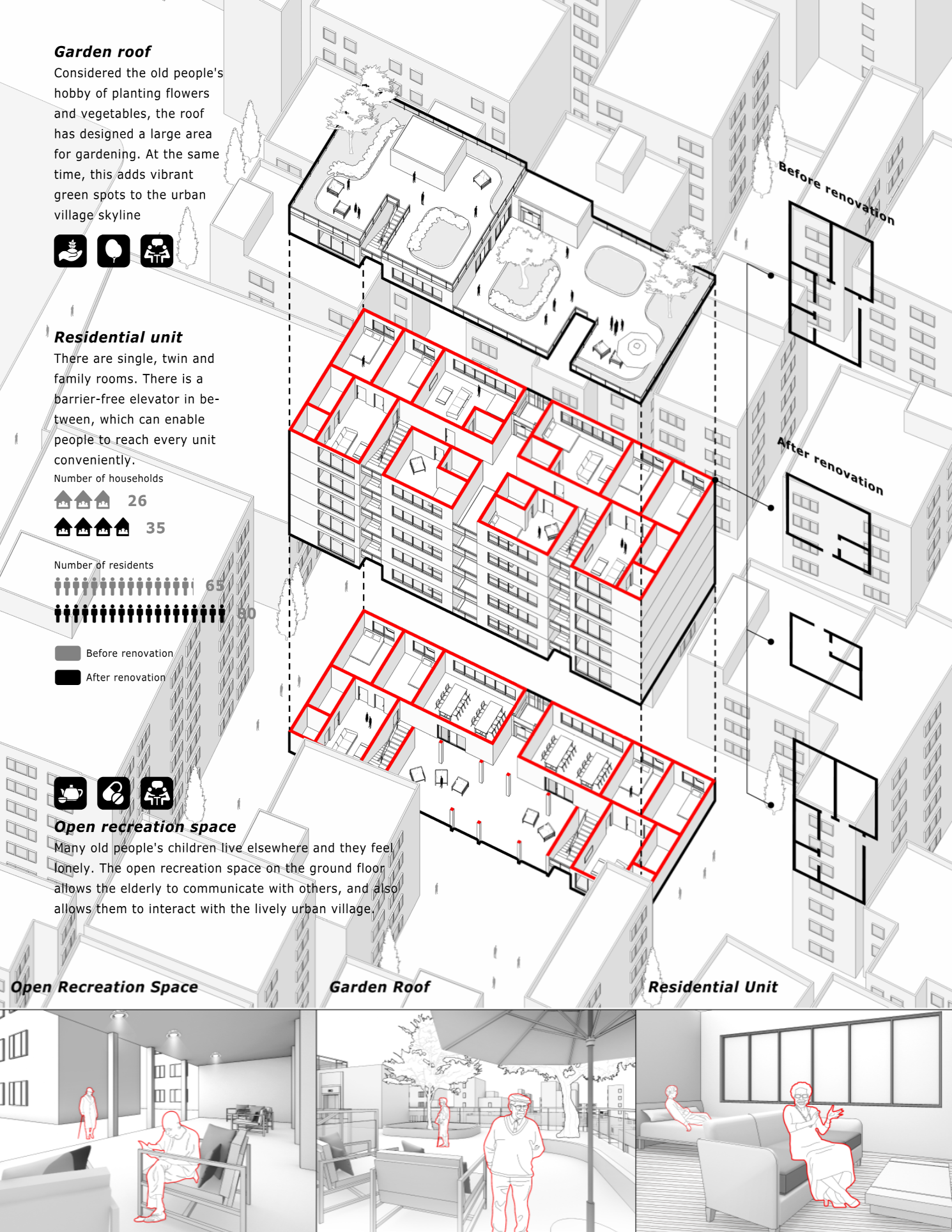 A Better Life in the Renewed Region
Eventually, Nantou Village gradually evolved into a new urban community. Through partial demolition, some overcrowded spaces were eased, releasing more open space and green spaces, and introducing more flowing air and sunlight. Meanwhile, under the methods of rent stabilization and targeted renewal plan, the main groups that originally lived here are reserved and now live a better life: active communication occurs in the young community; middle-aged people and children are easier to learn and develop; the elderly dissolve loneliness and rediscover the joy of life.
Although the local government invests a lot in this process, it could produce long-term and sustainable rewards: Nantou Village grows into a vibrant, diverse, and healthy community. It would not only encourage continuous passionate people to come to this city to seek opportunities, but also provide a stable and dignified living environment for the massive low-income groups.